Birds | January 13, 2022 2:09 AM | hangbony
Golden Eagle v Fox Face off.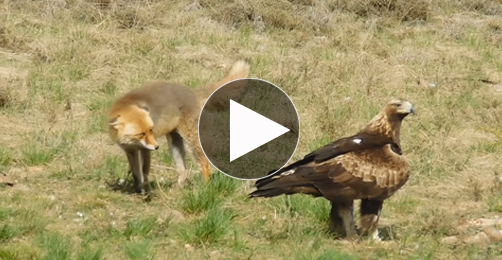 Golden Eagle versus Fox face off. Recorded at a raptor photography hide in the Aragon Pyrenees by Catalan Bird Tours in April 2018.
The Golden Eagle takes on the Fox. Catalan Bird Tours captured this footage in April 2018 in a raptor photography hide in the Aragon Pyrenees. It's as though they both agreed, "We're not doing this to entertain these o.b.n.o.x.i.o.us cameras." "From afar, you appear smaller and more edible," Eagle said, My eyes were deceiving me.
The fox didn't even appear to be a threat to Eagle. Its eyes scooted over him, as if to say, "Hmm, not enough meat." Modern cameras, I assume, have a silent mode. Is it okay if I suggest that? The fox appeared to be obedient. It had a really expressive expression on its face. The eagle simply required professional photographs for its acting/modeling portfolio. Thank you for liking and sharing.